John H. Stephens, R.L.S., is a full service Land Surveying firm established in Wabash, Indiana in 1986 by John H. Stephens, a licensed Professional Land Surveyor in the State of Indiana. Professional services include land surveying, subdivision design services, construction staking, site design, and construction project management. Our office is located at 19 North Wabash Street just East of the Wabash County Courthouse, providing easy access to all of Wabash County and City of Wabash governing agencies.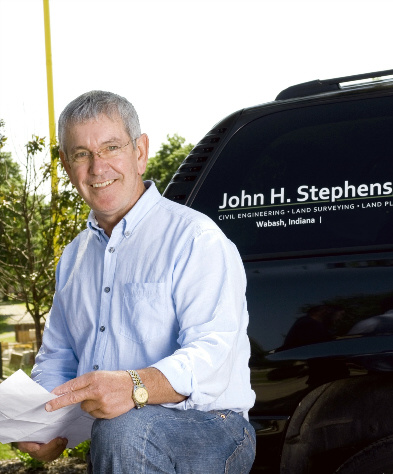 As a locally owned and operated land surveying business, John H. Stephens, R.L.S., provides surveying services to meet your various types of needs and requirements.
Land owners and purchasers of land may require Surveyor

Location Reports, Original Surveys, or Retracement Surveys.
Commercial real estate owners of land may require ALTA/ACSM Land Title Surveys, and/or HUD specified ALTA/ACSM Land Title Surveys.
Industries sometimes require infrastructure inventory, construction staking or landfill documentation.
Land developers may require subdivision design, permitting, construction staking, platting, and construction management.
Contractors may require construction staking of construction projects, including earthwork, utilities, buildings and multiple types of improvements.
Municipalities may require zoning maps, annexation surveys, existing utility mapping, route surveying services for future Local, State and Federally funded projects, and subdivision design for industrial and business parks.
When buying property, or when the Federal Emergency Management Agency (FEMA) changes the maps, home owners may find themselves being required to purchase flood insurance. Elevation Certificates, Letter of Map Amendments (LOMAs), and Letter of Map Revisions (LOMRs) can reduce the cost and sometimes even eliminate the need to purchase flood insurance.





To order a survey or request a free proposal.
Contact John H. Stephens, R.L.S.